Having a quarter-life crisis at 18 is not an easy thing. It's that stage when you feel like you're in the middle of the crossroads in your life or career not knowing what to do. Going through a roller coaster of emotions, confusion and stagnation might bring you down. However, there are still plenty of ways that can navigate your quarter-life crisis positively. Start your daily motivations by reading through these books:
1.
The Miracle Morning: The Not-So-Obvious Secret Guaranteed to Transform Your Life (Before 8 AM)
, by Hal Elrod
Pressed the snooze button for the third time this morning still you find the power to get up on your bed? Everything feels monotonous and routinary right? But did you know that it can only take six minutes of your time to make big positive changes in your life? This book provides plenty of easy-to-do routines that will keep you excited, inspired and productive every morning.
2.
Hyperbole and Half: Unfortunate Situations, Flawed Coping Mechanisms, Mayhem, and Other Things That Happened
, by Allie Brosh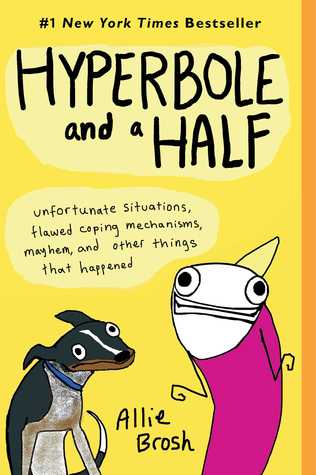 Feeling like you're the official hari/reyna ng sablay? Don't you ever worry, cause you're not alone! Author Allie Brosh will walk you through a series of her unfortunate/epic journey through her twenties. This brutally honest memoir will make you relate, cry, wow, and ROFL.
3.
Hardwiring Happiness: The New Brain Science of Contentment, Calm, and Confidence
, by Rick Hanson
In his book, Rick Hanson shares readers some ways to keep us tough and resilient amidst all challenges that come your way. Doing things mindfully, thinking of happy thoughts, and being in the moment are just some of the secrets to hardwire your happiness.
4.
Am I There Yet? The Loop-de-Loop, Zigzagging Journey to Adulthood
, by Mari Andrew
Others have been down that adulting avenue and while it's easy to follow the trails of those that went on their journey before you, what if your heart screams for you to take the road less traveled by? Are there any routes? From discovering yourself, dealing with heartbreaks and overcoming disappointments, Mari Andrew is sure to capture the daily complexities of life as a teenager through her witty comics.
5.
Bloom: Navigating Life and Style
, by Estee Lalonde
Anything is possible when you put your mind to it. From viewers to readers Youtuber Estee Lalonde encourages others to have the confidence and be their best self. She shares important life lessons that she learned from her own experiences and how it made her who she is today. According to Estee, everyone has their own bloom story so don't be afraid to celebrate yours.
Reading is surely a great way to get to know yourself better and explore new perspectives, especially when you're going through a crisis. Whatever challenge it is that you're facing now, don't forget to stay calm and allow yourself to think through your decisions.
Want to know more tips and guide on how to navigate senior high? Check out more articles like this on the Generation Zen section at Edukasyon.ph now!
Tags:
generation zen
mental health
quarter-life crisis