On February 27, we kicked off the biggest Senior High School Fair in Metro Manila. From Muntinlupa to Pasay, we brought the SHS fair to Manila on Mar 20 to 23 for a 4-day event where thousands of students participated!
With the help of the local government unit of the City of Manila and Department of Education Manila, we gathered around 19,000 students from various schools in Manila for career clinics and massive school fair that gave each student a chance to discover the right track for them and apply to their dream schools!
Opening the event on its first day, Edukasyon.ph Founder and CEO, Henry Motte-Muñoz welcomed the students with an inspiring message. "Everyone in this room wants you to succeed. Your teachers, the DepEd officials, and the whole team of Edukasyon.ph are here today to help you build a successful career. We want all of you to walk out of here today equipped with an informed choice for your Senior High School track, whether you'll be enrolling in a private or public institution next school year."
The event was divided into two parts. The first part is the career clinic wherein the grade 10 students deepen their understanding about each senior high school track through a series of fun and engaging talks complete with mini-games that the students loved!
During the career talks, students are made aware of the pros and cons of each track, common misconceptions, and what their career would look like for each track.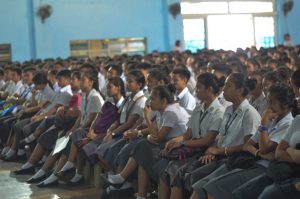 After the discussions of the SHS tracks, the students proceeded to meet the different schools at the fair and submit their applications!















Students were also taught how to use the www.eukasyon.ph website wherein they can search for public or private schools in the Philippines and apply online for free! Using the ASUS Zenfones and the fast internet provided by SMART, the students are able to send their applications to their dream schools in just a few clicks!
Oh and thanks to Lazada, every student who submitted an application to a school through Edukasyon.ph received a P100 voucher! 😊
After the students are finished submitting their applications, it was time for SELFIES!  📷
Here's what students have to say about the event!
All in all, the 4-day event was a HUGE success and thousands of students walked away with more information they can use for their future!
The next leg of the #EdukasyonPH senior high school fair will be in Makati on March 30 to 31! Stay tuned for more details!
www.edukasyon.ph