Ang kabataan ay tunay na pag-asa ng bayan.
Whoever that hasn't heard this quote is living under a rock.
"Ang kabataan ay ang pag-asa ng bayan."
Despite all the criticisms with the youth today, these 4 Filipino millennial social enterprises are doing their best to help their communities and prove that Rizal's words are not mere literature. #ABMAllTheWay
This is their way of the Filipino millennial clapback to those who doubt the youth's capabilities. You can start your own too! Tutulong sayo ang ABM or Accountancy, Business and Management (ABM) strand because it will focus on the basic concepts of financial management, business management, corporate operations, and all things that are accounted for. Yes, you heard it right. It is about the money! But remember your business should also help your community like these guys.
See also: Apply to schools offering the ABM strand – for FREE!
ANTHILL Fabric Gallery: Weaving the future of Filipino culture and traditions
Alternative Nest and Trading/Training Hub for Indigenous/Ingenious Little Livelihood seekers, or ANTHILL for short, is a for profit social and cultural enterprise that aims to preserve and promote the Philippine weaving tradition by incorporating it to contemporary products such as hand-loomed fabrics, fashion accessories, plush toys, uniforms, and travel accessories. This project provided sustainable livelihood and market access to local artisan cultural communities. They believe that "fabrics are more than just ingredients to fashion; it is where culture meets style; it is collective dreaming; it is a way of life."
Founder: Joy Anya Lim
Age: 30 years old
GO2 Virtualahan, Inc.: Enabling sustainable work for all
Go2Virtualahan got its name from the words 'virtual' and 'eskwelehan'. By harnessing the digital power of internet and flourishing outsourcing industry, the social enterprise provides employment opportunities to the marginalized sector due to their medical condition, disability, or former lifestyle through skills training and employment support as home-based virtual assistants. They have succesfully trained 103 virtual assistants with 85% employment rate.
Founder: Ryan Gersava
Age: 23 years old
Bahay Kubo Organics: A Farm In The Heart Of The Metro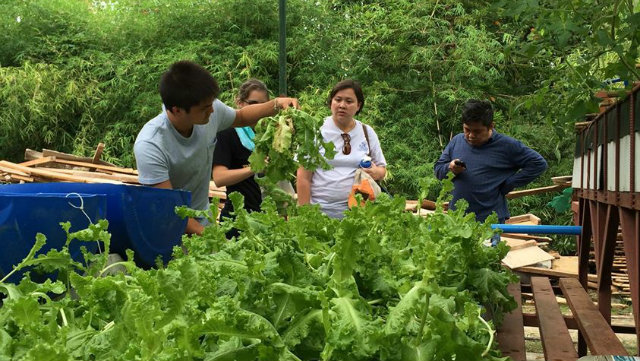 Bahay Kubo Organics is a social enterprise that encourages urban farming through aquaphonics to produce organic vegetation. Their mission is to develop sustainable communities by growing food in an alternative and innovative way. This addresses the local problems of food security and lack of livelihood. Aquaphonics is a cost-effective system fish waste provides nutrients to plants which in turn sustains a clean environment for the fish to grow.
Founder: Enzo Pinga
Age: 27 years old
If you'll be taking the ABM strand, you can also begin your own agribusiness like Enzo! Agri-what? Agribusiness. This means agriculture-related activities that put farmers, processors, distributors, and consumers within a market system of agricultural products. The Department of Trade and Industry eyes in transforming agricultural farming into a thriving agribusiness-driven sector. The future is bright for those into agriculture communities then, agri?
See also: Apply to schools offering the ABM strand – for FREE!
Habi Footwear: Walk Habi, Walk Happy
Started as a thesis group project, Habi Footwear founders saw the potential of maximizing the talents of mat weavers in Quezon City. The social enterprise employed mothers from the poorest communities of the city and started to make a 100% Filipino-made, environment-friendly footwear such as espadrilles and sandals. By turning scrap cloth into actual footwear, the organization helps in reducing solid waste.
Founder: Janine Chiong
Age: 21 years old
Everything starts with humble beginnings and maybe this is your time to go up! Get on board with other various tracks in the corporate setting if kukuha ka ng ABM strand. You can also get jobs as a loan officer, administrative assistant, community-service manager, market-research analyst, financial adviser, and even become a statistician.
See also: Apply to schools offering the ABM strand – for FREE!
5. Edukasyon.ph: Making Education Accessible
Of course, we are a young company!
At Edukasyon.ph, we aim to make education reachable and accessible to every Filipino child regardless of their social status. We seek to empower students everyday by being the go-to online portal for all important education to career information as these students discover the right track or course; choose the right career; and apply online to their dream school.
Founder: Henry Motte-Muñoz
Age: 28 years old
Still looking for the right senior high track or career path? Punta lang sa www.edukasyon.ph where you can search for schools; discover courses or careers; and inquire or apply online to schools for FREE!