Para sa ekonomiya, besh!
See also: Apply now to schools offering the Academic Track – for FREE!
The internal struggle.
Choosing this track means you are looking forward to go to college. Awesome! The Academic Track will help you adjust in terms of the subject specialization of the course you would like to take in the near future.
You have four strands in this track to choose from: General Academic Strand; Science, Technology, Engineering, and Mathematics (STEM) Strand; Accountancy, Business, and Management (ABM) Strand; and Humanities and Social Sciences (HUMSS) Strand.
Hugot of the year award goes to…
Still undecided on what to take up? #NoPressure.  Kalma lang, beshie, kung wala ka pang napipili because GAS will give you a taste of every strand. This is to ensure that everyone falls on the right fit in the course they want to take and prevent career mismatch in the future.
GAS = ELECTIVES = EXPLORE PA MORE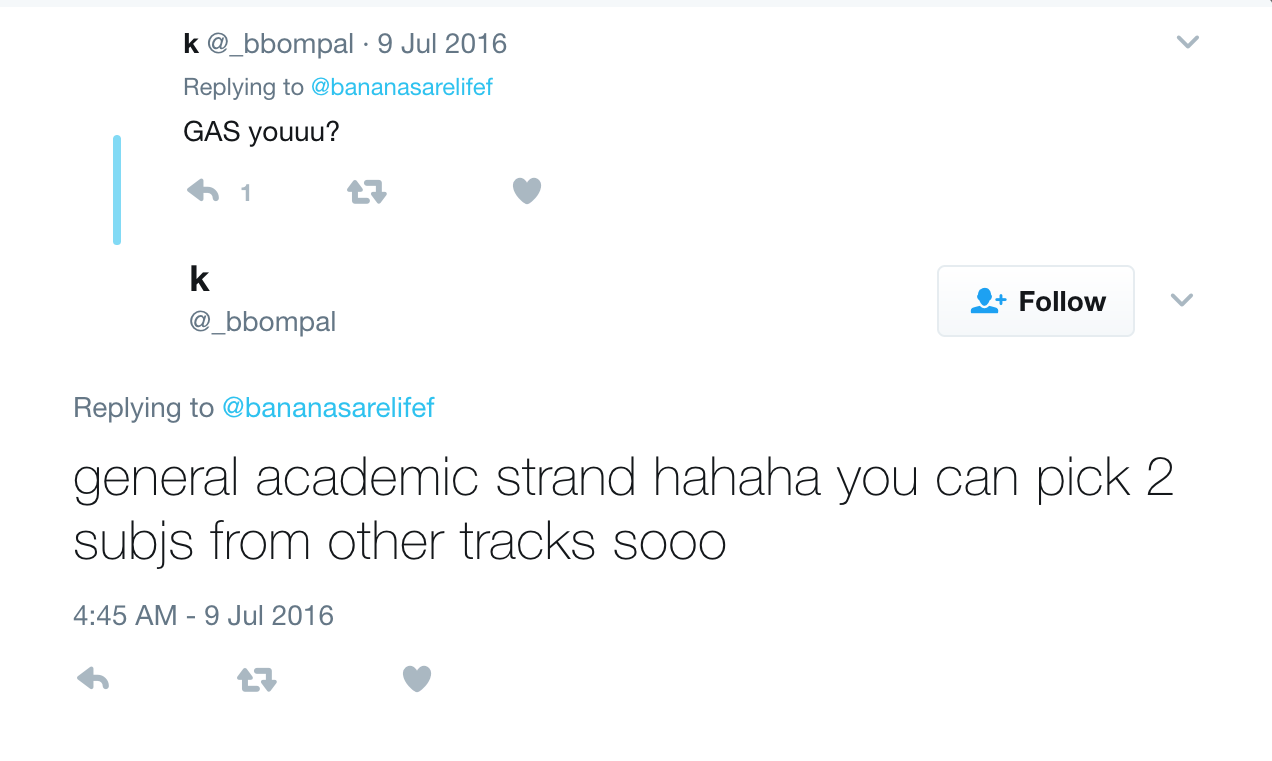 If you are still looking for the right strand you want to go or if you already have made a decision, you can take electives from the specialized subject of any other Track or Strand to help you with your choice. You can choose electives from the different academic strands under this track. These subjects include Humanities, Social Sciences, Applied Economics, Organization and Management, and Disaster Preparedness.
See also: Apply now to schools offering the Academic Track – for FREE!
At STEM, ravan lang! #WhammyWhammyPushYourLuck
Don't be scared though. Subjects such as Biology, Chemistry, Physics, and Calculus will help you as you go deeper in this infinite pursuit of truth and explanation. These subjects will give you the right tools in creating, innovating, and inventing the modern technological world. This strand also suits those who would want to be engineers, pilots, doctors, nurses, architects among others.
Exciting, di ba? AHA!
All the love for STEM people
So puro numbers siya? Yes, indeed, but hindi lang doon iikot ang mundo. The difference of the STEM curriculum with the other strands and tracks is that this will focus on advanced concepts and topics. Ganun kasi talaga, beshie. Under the track, you can become a pilot, an architect, an astrophysicist, a biologist, a chemist, an engineer, a dentist, a nutritionist, a nurse, a doctor, and a lot more. Those who are also interested in Marine Engineering should take this track.
The possibilities are endless, just like this expanding universe! Eureka!
Sa HUMSS, dapat chika-ala-dora #SwiperNoSwapangSaGrades
The HUMMS strand is specially designed for those who wonder what is on the other side of the wall. In other words, you are ready to take on the world and talk to a lot of people. And when I say talk to a lot of people, I mean really TALK to a LOT of people. This is for those who are considering taking up journalism, communication arts, liberal arts, education, and other social science-related courses in college.
See also: Apply now to schools offering the Academic Track – for FREE!
HUMSS is layf, my pahmily!
While it is true that the HUMMS strand means less math and less numbers (Yey!), this does not mean it would go as easy as it looks like (Awww). Contrary to the popular belief that the strand is for the mas komportable,  HUMMS would require a lot of work and tons of readings for its subjects. Unending passion is the key, beshies.
Ikaw na ang future CPA sa ABM! #YouAlready
Accounting, Business and Management (ABM) is fit for those who are looking forward to becoming the next Ayala or Henry Sy. This strand is a great stepping stone for courses such as Commerce, Real Estate Management, Accountancy, Business Administration, Agribusiness, Tourism, and Hospitality Management.
This strand would focus on the basic concepts of financial management, business management, corporate operations, and all things that are accounted for. Yes, you heard it right. It is about the money! So we make it raaaain.
*insert Gary V. SFX* Kung wala ka nang maintindihan…
To the higher level na ito, beshie. The ABM curriculum will allow you to get a deeper appreciation of the fantastic world of accounting and business management without the hassle of going to Algebra, Geometry, Trigonometry, and other specialize mathematical subjects that you won't need. Diretso basic business and enterprise management ka na kaya you can really do this!
ABM can go with everything. If you are into social good and want to leave an impact in this world, start a social enterprise. The ABM track will not limit you to what you can be as long as you make out of something with what you want to do. It's about profitability and sustainability! Be an accountant or a manager or you could be more!
See also: Apply now to schools offering the Academic Track – for FREE!
But in the end, senior high is pun!
Still looking for the right senior high track or career path? Punta lang sa www.edukasyon.ph where you can search for schools; discover courses or careers; and inquire or apply online to schools for FREE!