"You find yourself paying more attention to people and places. Suddenly, the walk from the Student Residence to the main campus is totally different: you see trees and flowers you'd never noticed and hear accents and sounds you'd never heard before." This is what Enhui Yan, Apple, mentioned when she reflected on how the Global Leaders Programme (GLP) has sharpened her observations and understanding of her university as a student.
Established to develop students' leadership skills and global perspectives, the Global Leaders Programme (GLP) engages current non-local City University of Hong Kong undergraduate students in activities promoting the University to important stakeholders such as overseas visitors and prospective students and their families from around the world.
The current members of the GLP are from 24 countries. Here are several accounts from four current members and two alumni of the programme.
Apple, Finance major from Inner Mongolia
A second-year Finance major from Inner Mongolia, northern China, Apple is one of 54 current members of the GLP. Apple joined the programme to help her integrate with CityU's community. She also learned to work with people from different cultures. She explained that the GLP gives non-local students precisely what she was looking for: the opportunity to meet like-minded non-local students who wish to be trained as ambassadors, being student representatives at official events and social media representatives, and the opportunity to share one's current and past experiences of CityU and Hong Kong.
GLP members are uniquely placed to play an active role in recruiting international students. At the same time, they help students and even their families to understand what it's like to study at CityU. The GLP offers innumerable opportunities in diverse areas, such as enabling members to meet people from different backgrounds and often in different positions, from high-school counselors to prospective students and even officials from universities around the world. Learning how to interact with people from different cultures helps students hone their soft skills and builds their confidence.
Yahia, Energy Science and Engineering student from Egypt
Take, for instance, Yahia Ezzat, a first-year Energy Science and Engineering student from Egypt. Providing campus tours for visiting officials is one of the key duties of the Global Leaders, as representatives of CityU's international community. Yahia shared with us his experience of giving a campus tour to officials from an international school in China.
"As a student, I could candidly paint a positive picture of CityU. I was also able to address several of the officials' concerns, and I really enjoyed helping them." This experience helped Yahia to realize his aspiration to become a delegate abroad, representing CityU while helping to recruit new students.
Bruce, Mechanical Biomedical Engineering major from Mauritius
Similarly, Bruce Placathose, a Mechanical Biomedical Engineering student from Mauritius explained that he had joined the GLP to expand his network of friends at CityU. "I have made friends with people I might not otherwise have met! International students should consider joining the programme for this very reason."
The programme has also made Bruce look at the world through a different lens. One of the training activities offered to Global Leaders is the "Refugee Run." This activity simulates the experience of being a refugee to increase participants' understanding of the refugee cause. Bruce said, "Participating in the Refugee Run was eye-opening. I am now so much more aware of and sympathetic toward the cause."
Emily, Veterinary Student from Canada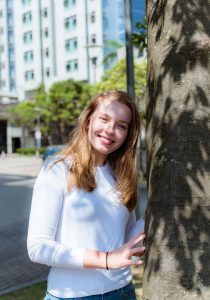 Another Global Leader, Emily Varga from Canada, studying at CityU's College of Veterinary Medicine and Life Sciences, also joined the Refugee Run. She said, "The unique experience of putting myself in a refugee's shoes helped me understand a social issue that might otherwise have seemed overwhelming." It was an emotional experience, and Emily found that she bonded with the other participants.
Since joining the GLP, Emily has met many people who, like her, are new to Hong Kong. Moving forward, Emily hopes to help other non-locals who are new to CityU and Hong Kong—because that is what the GLP has done for her, and it has made all the difference.
Global Leaders Programme alumni Hanna and Monisha
Established in 2015, CityU's GLP is now in its third year of implementation. Hanna Lim, a final-year Psychology student from South Africa, and Monisha Shcherbakova, a third-year Computer and Data Engineering student from India, are alumni of the programme.
Hanna and Monisha shared many experiences as members of the GLP in 2015, which helped them to forge a close friendship. Both of them thoroughly enjoyed sharing their experiences of student life at the University's Information Day for high-school counselors.
"Talking about being an international student at CityU starts out scripted, but you always end up talking from the heart! I am so glad that the GLP gave me the chance to share my experiences," says Monisha, who also had the chance to talk about her experiences at CityU with officials from universities in Russia. Hanna had the chance to show university delegates from Thailand and South Africa around the campus, and the connections she built as a GLP member has lasted to the present day.
"I think that sharing what you've been through helps you to feel less alienated when away from home," Hanna commented, describing her responsibility for providing campus tours as a GLP member. "Before joining the GLP, I was lost in some respects, but as a member of the GLP, I helped others to find their way. Being part of the programme was thus an empowering experience." Monisha agreed, explaining that, "Once an applicant to CityU, I am now a current student and a representative of the University, due to the GLP. Without this opportunity, I would not have been able to expand my professional and social network across cohorts, across the University administration and, in essence, across the world."
Text: Sadhika Nanda, Asian and International Studies, CityU
Photos: Andy Yang, Business Economics, CityU
Design: Wangtiansui Lei, Creative Media, CityU
Represent your country as a student in Hong Kong!
Learn more about City University of Hong Kong
---
*This article originally appeared on DiverCity Student Magazine, with minor edits by the Edukasyon.ph team.
Tags:
cityu
leadership
study in hong kong