There is no question that kids, students, adults, and even parents all over the world are all about superheroes nowadays. However, just like what's commonly depicted in cinematic universes, the reality is, our worlds are so far apart. Fortunately for Earth, students of Singapore University of Technology and Design have created something that can hopefully bridge the gap.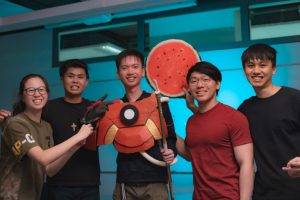 Rarely does it occur when doing home-related chores do we feel like superheroes. But with what came out of SUTD from the brilliant minds of Team Pacifier, a group of students made up of freshmores, that can change.
The Iron Vaccum
No! It's not a vacuum cleaner made of iron. It's what Iron Man would have made for his daughter to get her to do chores.
Team Pacifier of SUTD created the wearable vacuum to encourage kids to clean by making it fun for them. And we at Edukasyon.ph want one!
The project was a result of SUTD's "Introduction to Design" module that all freshman students are required to take. Every year, students get a chance to showcase their innovations and the theme this year was "At Play."
Team Pacifier, which is comprised of Lim Jun Hao (21), Liu Kaiyu (21), Li Jiaxi (18), Nicholas Siew (21), and Lang Jun Xin (21), had a memorable and engaging experience at this year's Introduction to Design project.
According to Lang Jun Xin, it was their shared experience of cleaning at home when they were young that gave them the idea. Oh, and they're also Marvel fans if that wasn't obvious enough.
During an interview, Team Pacifier made it a point that it was their university's initiatives, culture, and facilities that made the exercise fun and engaging. Plus, they all chose the young university for its unique features.
"The small faculty-to-student ratio and hands-on learning caught my attention. I also applied to NUS, but after learning more about SUTD's curriculum during Open House, I decided that the way that SUTD students learn is better suited for me. I am someone who remembers and understands better through a hands-on approach."
Team Pacifier recommends that you choose SUTD if you like collaborating with like-minded individuals, and enjoy creating things. According to Nicholas, SUTD really supports innovation and creation and the university is perfect for students who are looking for a hands-on experience with space and facilities to create their own projects.
For all we know, SUTD might be the educational institution that will breed the real Tony Stark! It's no question that it takes a lot of engineering, design, architecture, and computations to be a certified Tony. And with what these students are churning out, it might just be that our worlds are not that far about from the movies.
Have you been thinking of taking an engineering course to create innovative inventions?
Learn more about Singapore University of Technology and Design!
Tags:
engineering inventions
Innovative inventions
Inventions
iron man inspired
iron man inspired vacuum suit
singapore university of technology and design
study abroad
study engineering abroad
study in singapore
sutd