It's easy to tell yourself to study hard. But it's a lot harder to teach yourself to study smart. Luckily for us, Google Chrome—a.k.a. the most customizable web browser ever—is built for productivity. How? Meet the power of Google Chrome Extensions.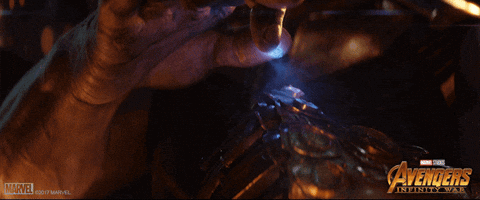 Think of Thanos and his Infinity Stones. The gauntlet is Chrome. The stones are the extensions. You gain more power, knowledge, and save more time with each one. With a snap, your problems disappear.
Here are a few that will seriously save your student life. Loads of students use and recommend these, too! You're welcome.
Infinity New Tab: Like a home screen but for your browser
There are loads of extensions out there to customize your new tab, but Infinity by far is the best one. For one, it's synced to your Google account so you can link the icons to your Drive, Gmail (with push notifs!), Calendar, and more. More importantly, the icons link to your sites and in-tab apps like a notepad, a to-do list, a calculator, the weather, and more!
Toby: For when you don't want 5,000 tabs open anymore
We've all been there. That moment when audio starts blaring and you don't know which tab it's coming from. Or you need to find a certain Wikipedia article but 32 are open. Here's your fix: a tab sorter. The mini-version won't interfere with your new tab, if you've customized it.
Google Dictionary: Find out what it means with a double-click
You know that feeling when you're reading something and you find a word you don't know, but you know you'll lose the flow if you look it up in a new tab? Well, this extension is a life-saving pop-up dictionary. It also offers synonyms for when you want to hit that word count.
Cite This For Me: Bibliography is hard, but not with this extension
So you're doing your research paper and forgot to take note of that online source again. This extension lets you create a properly formatted web citation in MLA, APA, Chicago or any style you need.
Pocket: Save literally everything for later
We keep saying we'll check out that site later. Then we never do, or we lose it. Pocket lets you save anything: articles, pages, videos, and images for later viewing. It's got an app so you can sync to your mobile, too!
Grammarly: An online grammar Nazi you won't hate
Spell and grammar check your life. Never get flamed for mistaking your for you're ever again. This extension is way better than a spell checker because it also corrects style and is context-specific.
Forest: Set aside time to focus and leaf your worries behind
Get off social media already and get to work! But make it fun and gratifying and eco-friendly! Plant a tree and, over time, grow a forest while those sites are blacklisted. If you get the app—it's not free though—you can even get a real tree planted in the name of productivity!
Strict Workflow: A Pomodoro timer and site blocker to get in the zone
One click starts 25 minutes of distraction-free work followed by a 5-minute break. This workflow is from a time management concept called the Pomodoro Method. The extension is customizable, too, and you can whitelist sites you need during work time.
News Feed Eradicator: Bye-bye infinite scrolling vortex of doom
So say all your school-related updates are on Facebook. But you can't help getting stuck in the swirling news feed of doom. Why not just block your feed entirely? You can still access everything else. If you like, you get to replace your feed with a quote!
Fakeblok: Flag all the fake news
We live in a time when dangerous media can fool just about anyone. And so the Center for Media Freedom and Responsibility setup Fakeblok to flag suspicious sites and fake news. You can do your part, too, by flagging the disinformation that you spot.
There's a reason your browser keeps lagging. Too many active tabs open! That's why this extension is so great. It suspends your tabs until you get back to them. You can toggle the settings to whitelist sites, too. You'll work a lot smoother with a quicker browser!
Ready to get productive? Download all the extensions! Or just a few, we don't dictate your life. The trick to beating procrastination is eliminating distractions and only keeping what's necessary. That being said, there's nothing wrong with taking a well-deserved breather every now and then. Just don't get lost, and don't overwork yourself.
Need more productivity tips? Gotchu, fam! Check out our list of study hacks. We'll do you one better. There's a whole section all about surviving College Life on the Edukasyon.ph blog!
Tags:
college hacks
college life
google chrome extensions
Productivity
productivity hacks
study hacks
time management